Engagement Photoshoot – Goldfish Photography & Video
Hello fans and fellow brides to-be,
Hope you are all well and that your very own wedding plans are coming along nicely 🙂
I just wanted to write a post about mine and my fiancés engagement photo shoot experience with Goldfish Photography and Video.
When I first became engaged, I really was not too keen on the idea of having an 'official' engagement photoshoot; it's not that popular back in the UK where I am (or at least it wasn't when I lived there) and is far more common in the USA. I just felt it was not 'must', however, the more images and features I have read/seen for other couples and their engagement photo shoots, the more I became intrigued and interested in the idea.
If you think about it, an engagement photoshoot is a great way for you and your loved one to get comfortable in front of a camera together, to bond with your potential wedding photographers and let's not forget, to have some gorgeous casual images of the two of you together for years to come. Many photographers actually include the engagement shoot as part of their overall package, so make sure you ask about this when enquiring.
Adam and I have hired Goldfish Photography and Video for our legal/wedding ceremony in May and so, we agreed on an engagement photo shoot too. We have not yet confirmed Goldfish as our official wedding blessing day photographers in November, but that is only because I want to wait and see how our engagement and legal ceremony images come out first, I'm also waiting to see a few more weddings from their portfolio which should be up and available to view on their site very soon. The images they currently have are amazing, but I want to see a few more for diversity…
Anyhow, moving on to our experience, I know Claire (one of the founders of Goldfish Photography and Video), as she is a client of mine at www.brideclubme.com, but I've never met her business partner and husband Paul or had the chance to really talk with Claire at length. Adam (my fiancé) hates having his picture taken and was not best pleased at the prospect of posing in front of a camera for a few hours, lol, but I convinced him any way.
The briefing:
Initially we met with Claire and Paul at MORE Café/MOE for a briefing regarding potential locations for the shoot. Funnily enough, Adam and I had discussed that we did not want the cliché beach/desert shots, but rather something that reflects us as a couple. We spoke about the idea of having it in funky café, casual date theme, somewhere unusual/retro.
Seems Goldfish had the same thing in mind, they showed us some great images of the 'Rivington Grill' at the Madinat Jumeirah. A really unique café, with fabulous NEON lighting using words very relevant to a couple in love. The café has a very London/NYC feel to it which we love, as we are both from the big smoke/LONDON. The Rivington Grill also overlooks the stunning architecture of the Madinat and catches glimpse of the Arabian ocean and Burj Al Arab too. PERFECT we thought, a touch of us and a touch of the city we fell in love in.. So we were off to a good start, both us and the photographers were on the same page.
Below image taken by me on my Iphone: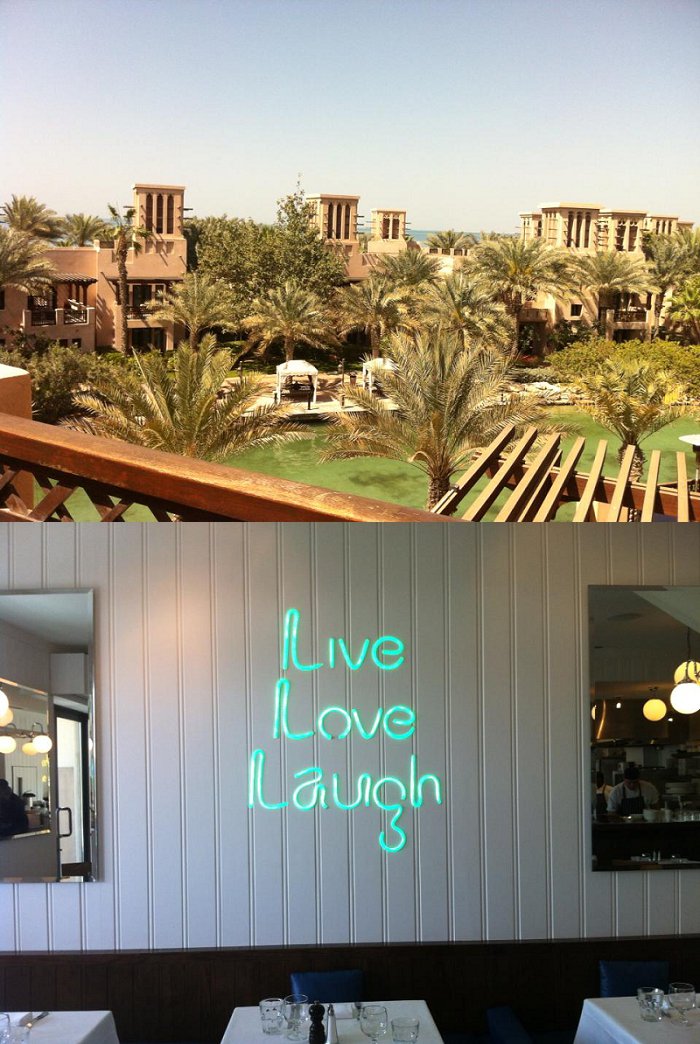 The shoot Experience:
We agreed on the location/date and met up with Claire and Paul last weekend at 10am sharp for our shoot, Adam was a little tense to start off with, but as soon as he got chatting to Claire and Paul, he eased up and even started to enjoy the whole thing…. Claire and Paul were fantastic with us, very patient, calm and creative, directing us when needed and also allowing us to improvise now and again. I'm quite creative, so I had some ideas of mine own which they gladly obliged.
We had such an enjoyable day with Claire and Paul and really felt like it was a bonding experience in itself for Adam and I. Afterwards we all de-briefed and relaxed over lunch at the grill, which was delicious, our treat to our photographers who were amazing and fun to work with.
Adam even whispered in my ear "I really love these guys, please can we hire them for our wedding in November"  he-he….!
So there you go, obviously we do not have the images back yet, I will post these as soon as we have seen them, so you can check them out yourselves. We really can't wait to see them. With the experience of the shoot and working with Goldfish (Claire and Paul) I cannot recommend them enough for you engagement shoot, they are such wonderful people with real passion for their craft and have kind hearts.
I think it's incredibly important that you feel comfortable with the people who could potentially be capturing the BIGGEST day of your life, I am a true believer that people buy people. We certainly did feel very comfortable with Clare and Paul and hope to remain friends with them for a long time to come.
Watch this space for the photo's COMING SOON!
If you are keen to find out more about Goldfish Photography and Video or are interested in hiring them for your very own engagement shoot/wedding, check out their vendor club listing on www.bridclubme.com here.
Goldfish are offering a wonderful promotion currently on the site, so get in their quick of you want to take advantage of it.
Ciao for now…
Rio xx