We Brought Our Wedding Rings! YAY!
Hello all.
Yesterday Adam and I put down the deposit for our wedding rings, I was quite surprised at how quickly we make our choices to be honest, considering we will wear these rings for the rest of our lives. Adam was the quickest, making his decision after visiting just two jewelry stores in The Gold & Diamond Park.
I made my choice after checking out four stores and going back and forth between a more classic/simple ring and a slightly unusual one. Boo to me, but I went for the safer option, I just couldn't risk buying something that in 10 years time may look out of joint, classic is timeless, so this was my choice.
Adam got his simple matt/white gold ring from the famous CARA Jewelers, a popular choice for many expat couples looking for their wedding rings, CARA are also going to engrave Adams ring as part of the deal. I got my white gold/diamond band wedding ring from the neighboring GLAMOUR Jewelers in The Gold & Diamond Park/Dubai.
Below: Adam with the manager of CARA jewellers 'Kiran' after he brought his ring.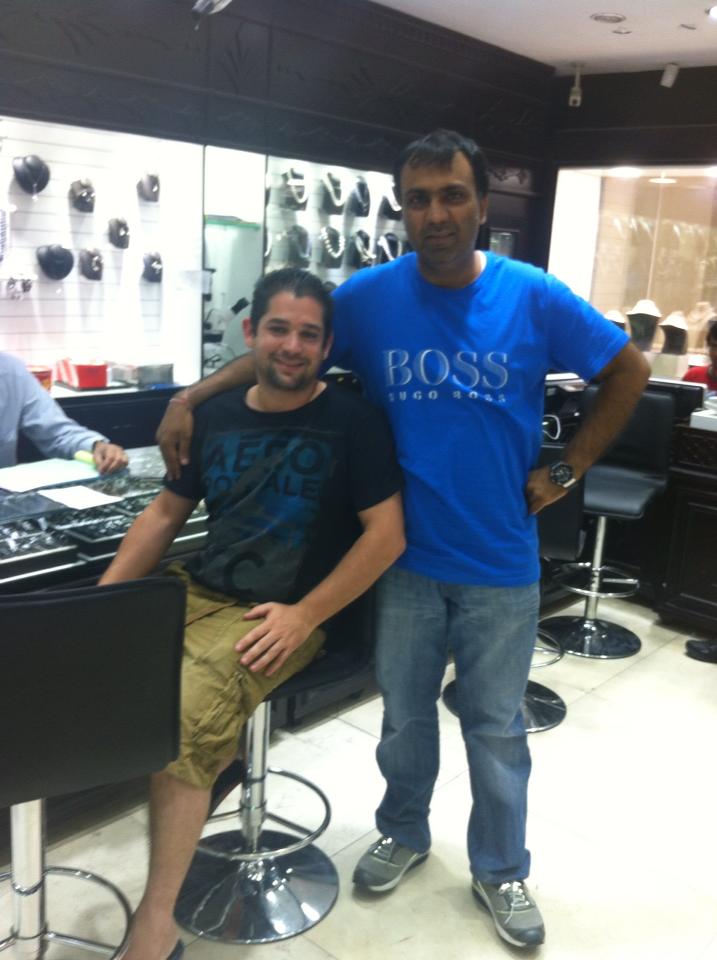 The good news for us is that our rings came in at around 1500AED under budget and to top it off GLAMOUR jewelers are going to engrave my wedding ring for free and clean/re-plate my engagement ring ready for our 'legal' ceremony in May.
We shall collect our rings (and certificates) on Thursday and I will lock them safely away until our legal ceremony in May, we will then lock them away again until our wedding blessing in November and thereafter, they will remain on our finger till death do us part – He-he.
So, that's another thing ticked off the list. Hopefully CARA and GLAMOUR jewelers will list with my business www.brideclubme.com soon, so you can read all about them and take a look at their wedding jewelry range, special promotions, and more soon.
TIP: Always ask the jeweler you buy your ring from if they can provide certificates of authenticity. If you are choosing a ring with diamonds, you can ask for proof that the diamond was ethically sourced. Don't be scared to ask for added value, such as free engraving or cleaning of your engagement ring. Most jewelers with oblige.
Ciao for now….
Rio xx