WEDDING DIY – DIY 'Sweet Heart Chair' Garland.
Hello peeps.
Today, I am going to share one of my wedding DIY projects. I'm not going to share every DIY project I do, as some things need to be kept a surprise, but I'm happy to share this and my Confetti bags DIY with you :).
So, for some time, I've been wanting to get some 'sweet heart chair' decor for our wedding, a 'Sweet heart chair' is basically the chair the bride and groom are seated on during dinner. Some couples have their own table and/or sit at the head table.
I looked on various handmade craft websites, such as etsy.com and considered ordering a few things, but then when it came to cost, it just did not make sense to me, when I know I can 'Do it myself'. So I chose an easy DIY option, that looks 'Oh so pretty' too 🙂 Garlands. I am making two of these, the second using turquoise blue, silver and white lace. I have seen garlands before, but I added my own twist with the flowers, I have never seen that done before with garlands 🙂 So it is unique.
What you will need?
Various ribbons/material strips (I got mine from Dragon Mart and used an old skirt for the material)
Yarn in various colours (I got my from Creative Minds/Al Barsha)
Jute Twine (Creative Minds/Al Barsha)
Flowers or dried lavender (I got mine from a friend, although you can ask your florist to add some single stems of your favourite flower on the day of your wedding).
I have not taken step by step images, as it's sooooooooooo uber simple, but here are the basic instructions:
Cut your Jute string to size and tie on each handle of a chair to ensure the size is similar to the chair you will sit on at your wedding. I am having chiavari chairs, so my dining table chairs were perfect to practice on.
Now start cutting your material, coloured yarn and ribbons to the length you prefer. I just cut all mine one length to start with.
Then start tying your ribbons (in a double knot) on to your jute, alternate the colours of your materials, ribbons and yarn. Once all are tied, cut to size, I cut mine longer in the middle shorter at the outer edges to compliment the curve of the jute. Make sure you snip off any surplus material/ribbon/yarn at the top so it's neat.
Now for the flowers, cut the stems of your flowers neatly and tie jute at the bottom of the stems, now tie the other end of the jute to the garland. Spread your flowers out in between the ribbons/materials/yarn.
Voila! – The finished product should look something like this: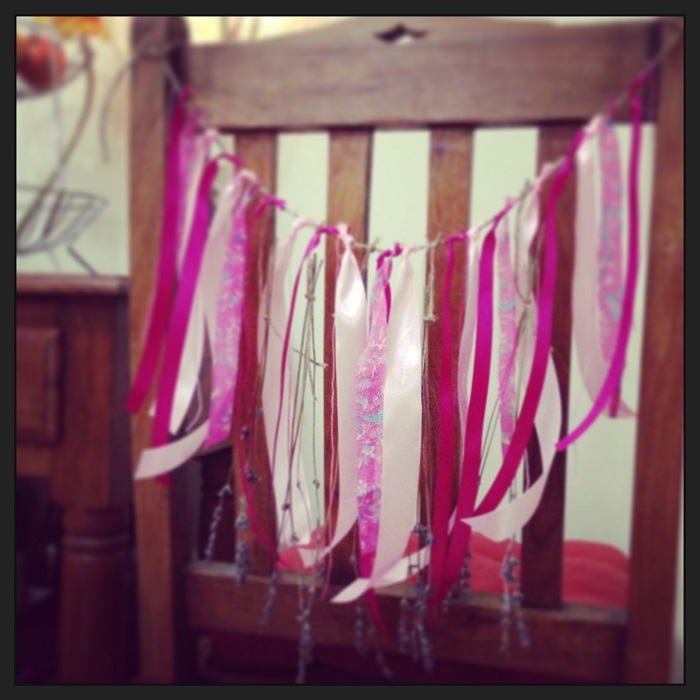 Here are some images I found of other wedding garlands. Enjoy!
Ciao for now.
Rio xx