Our 'SAVE THE DATE' – Digital style.
Hello brides to-be and readers,
It's been a while since I posted or updated my blog, so apologies. I have been busy launching www.brideclubme.com and working on our official launch event. WE ARE NOW LIVE! Yay 🙂 Watch out for a blog post coming soon, with images and updates from the launch event and do check out the new website www.brideclubme.com for inspiration, competitions, suppliers, our discussion forum and more!
So, I'm please to say I've ticked one thing off my list, our SAVE THE DATE. We chose to go digital with our Save The Date, number one, I don't trust the post in the UAE and number two it's quick and convenient, not to mention free to send via email.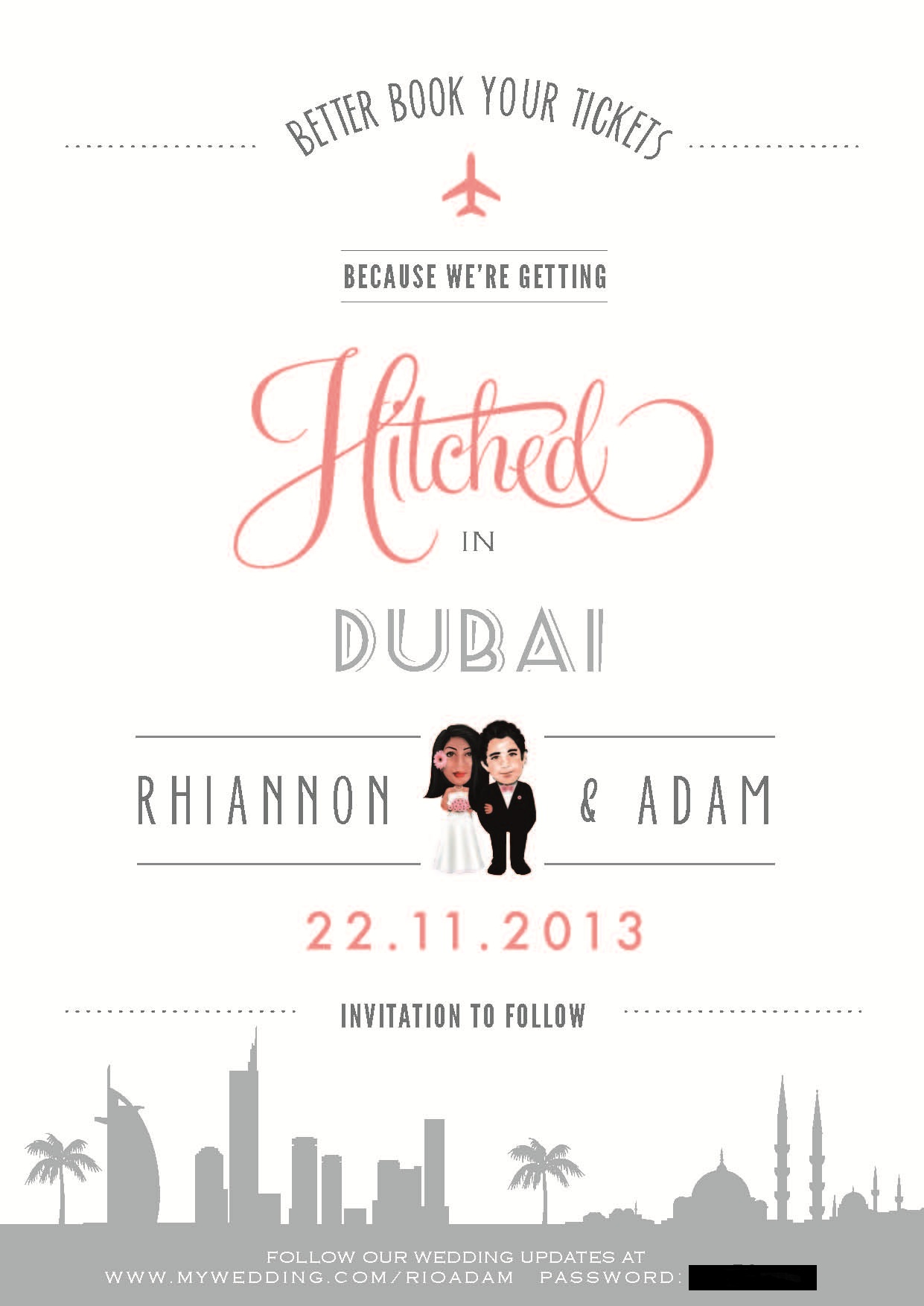 My wonderful designer Melissa Love, who worked on the Bride Club ME branding and our website, designed our Save The Date digital mailer, and I am extremely happy with the result.
My brief  to her, was to create a modern, fresh mailer, incorporating our wedding colours Pink, black, silver and white. I wanted a variety of fresh fonts and a 'Travel' theme, since many of our guests will be flying in from all corners of the world. I also wanted the beautiful Dubai sky line included since we are of course marrying in the city.
I also asked a very talented friend of mine, who illustrates to create mini characatures of my fiancé and I, which he did soooooooooooo well, they really look like Adam and I, lol.
The feedback has been great and our family and friends really liked the Save The Date. We will be sending formal invitations via post next year, so I shall keep you updated, I'm close to choosing my supplier.
If you are thinking of sending a digital Save The Date mailer and need a designer to help bring your vision to life, check out our 'Vendor Club Directory' on www.brideclubme.com, specifically the 'Wedding Stationery' section:  http://www.brideclubme.com/vendor-category/wedding-stationery/. Many of the vendors listed are offering special incentives and discounts to our fans and readers 🙂
Hope you like.
Ciao for now
Rio xx