Why our readers/clients love Bride Club ME & Expat Bride
Hello friends/fans and brides to-be,
So, I'm officially on 'annual leave' as of today, not sure what that means though as I will still be working almost every day whilst I'm in the UK, LOL. I really can't wait to go back home, it's been two years too long and I am craving to see my family and friends yay! Also, on another positive note, my tooth has finally been removed and I feel so much better, although I am sure the strong pain killers are helping. I will be posting some updates during my stay in the UK and will let you know how my UK HEN do and our pre-wedding event goes! SO EXITED!
Anyhow, today, I'm feeling reflective. I launched www.brideclubme.com officially back in November 2012 (click here for the launch video) and started blogging here about my own wedding plans back in June 2012. Since then both my blog and www.brideclubme.com  has helped countless brides and grooms and this always puts a smile on my face.
I'm earning less than I ever have before, work constantly, but Iv'e never been happier, because I am doing what I love. In addition, I've also helped many fabulous vendors gain new business and brand awareness as a result.
I have huge plans for www.brideclubme.com next year and without our readers and clients, I would not be doing what I love every day, so THANK YOU.
Below I want to share a few testimonials received for Bride Club ME and Expat Bride combined, since they both launched last year, this is what keeps me going.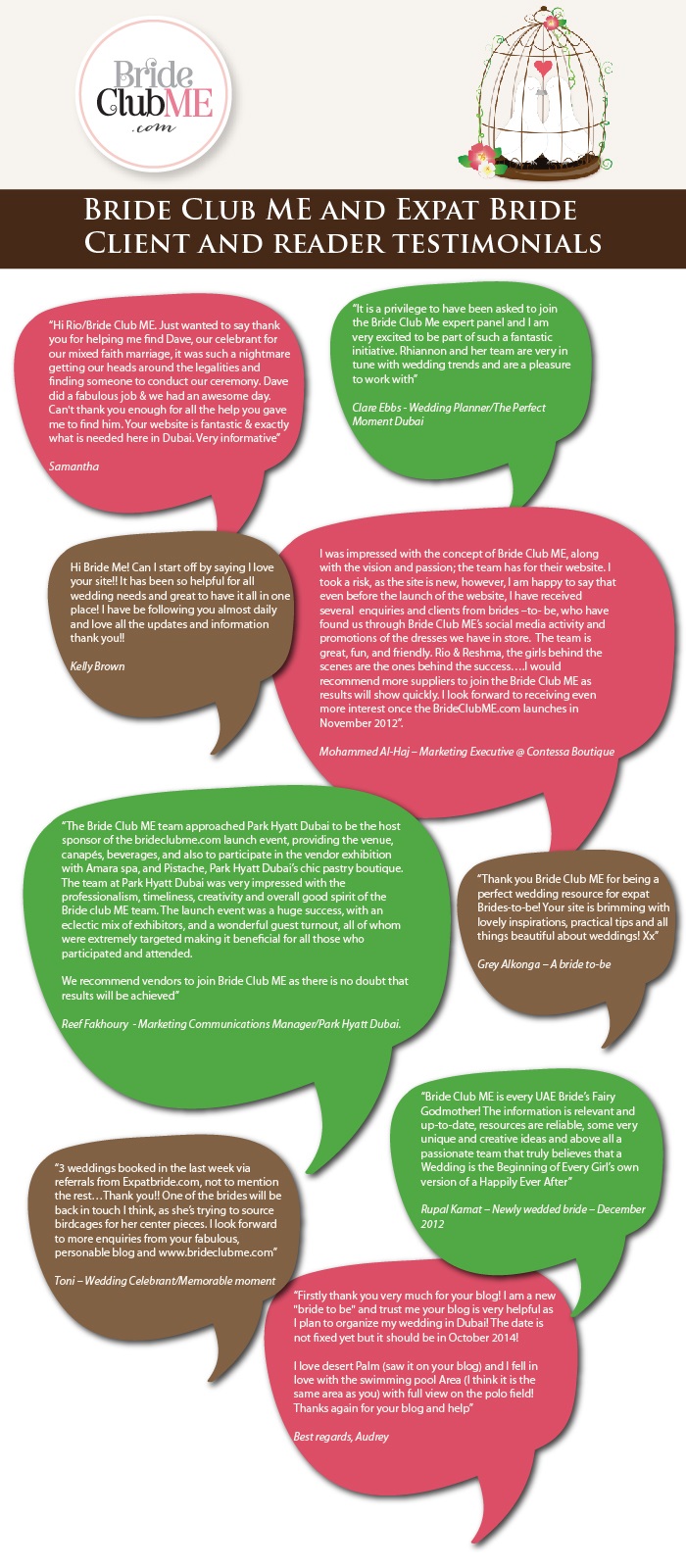 Has www.brideclubme.com or my personal blog helped you with your wedding plans? If so, please feel free to drop me an email with your testimonial, I would love to hear from you.
Back next Thursday with updates from my UK trip, pre-wedding party and hen do! Woo hoo!
Ciao for now
Rio xxx