Update: Events, Fans And A Belated Valentines/Birthday Dinner
Hello love birds.
WOW, what a crazy few weeks it has been, here is the low down on what I have been up to.
THE BRIDE SHOW ABU DHABI:
Last week, I was up in Abu Dhabi, exhibiting as media partner at the BRIDE Show, I was also invited by the Informa exhibitions team (organisers of the BRIDE show) to be a guest speaker on stage, running twice daily 20 minute talks, offering brides wedding planning Tips N Tricks. No stranger to public speaking, I really enjoyed the sessions, but was ready for my own bed by the time I returned to Dubai, he-he.
A few of my clients joined me on stage to offer their words of wisdom too, wedding planner, Clare Ebbs, from The Perfect Moment Dubai, and Julie Leblan, founder of wedding gift registry Mylist.ae. I also met some of my readers too, including Jayce (pictured below right), who is a certified Bride Club ME and Expat Bride "super fan". She even brought me a favor bag from her recent legal wedding as a gift, she found the idea on Bride Club ME, how sweet! You can read the feature that inspired her here.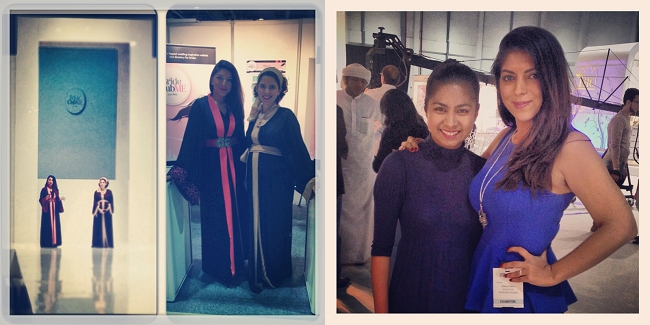 The areas I covered in my 'Tips N Tricks' talk sessions were:
Plan Early
Budget
Delegate
Try your hand at DIY (Get creative)
Use online wedding inspiration websites, blogs and social media pages such as Pinterest.
The BRIDE show is definitely more targeted towards the local and Arabic bridal market, however, whilst I initially launched my business www.brideclubme.com, for the expat community, we have noticed an increase in the number of Arabic and local brides our site attracts. Personally, I think this is because the modern younger Arabic bride's style and preferences are changing, many want their weddings to become more personalised and quirky, whilst maintaining and respecting cultural traditions…Why would we deny them? My aim is to bring all brides information and advice on www.brideclubme.com, however, this little blog EXPAT BRIDE, still tends to attract the expat bridal community for obvious reasons.
I met all sorts of brides at the exhibition, some from the USA, UK, Philippines, India and many from the UAE. What I noticed when I was talking on stage were the smiles on the local ladies faces. After I came off stage, I had many approach  me thanking me for the advice and tips, some even said they would try their hand at DIY, yay! Whilst we continue to attract western brides to Bride Club ME, I'm delighted that we have a growing Arabic audience too, after all, ALL brides need help and advice.
VALENTINES:
I feel totally rubbish about it, but I missed Valentine's Day with my hubby (our first as a married couple) and I returned home on my Birthday. We did however make up for lost time and I was treated to a delicious, romantic meal and cocktails at MAYA, a Mexican restaurant at the Le Royal Meridian Beach resort and spa. I highly recommend it, not only was the food awesome (the deserts were dangerously good), but the music was brilliant! To be honest, last year was total event overload for me an I just wanted some down time and simplicity, for my birthday and valentines, hubby did good!
When things calm down a bit, Adam and I are taking a few days out to stay at the Park Rotana, in Abu Dhabi, which overlooks the Khalifa Park, we will then, FINALLY visit the grand Mosque, yay! I've always wanted to go. This will be a welcome break away from the hustle n bustle of work and life in Dubai….I will keep you all posted on my experience in due course…Oh and I'll be checking out the wedding facilities whilst I am there.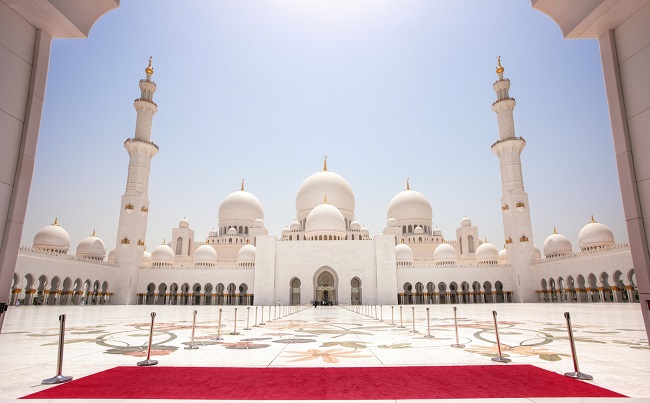 OUR NEXT EVENT:
Following on from the BRIDE show, I am now getting ready for two intimate events that I am co-organising in association with the gorgeous Fairmont, The Palm Hotel, Dubai. Whilst I appreciate the value trade shows and exhibitions can bring, when I was a bride-to-be, I really craved smaller, intimate events. In the UK and USA, you have all sorts of fabulous creative bridal events, and I wanted to bring a touch of that to the UAE.
First up, we are running a wedding work shop, where brides will leave with valuable information and tips in regards to the wedding planning process, after this will be a cocktail party organised by myself (Bride-to-be/Mix N Mingle) where brides can meet with other brides and have a good old girly chat about the highs and lows of wedding planning, whilst sipping on mocktails and enjoying yummy canapés prepared by the hotels executive chef, there will also be some lovely surprises in store for the brides who attend.
The event will take place on the 26th February at the Fairmont Hotel,The Palm, Dubai and is RSVP only, so if you would like to attend, please email [email protected], with your name and wedding date and you will receive your VIP invitation via email. We are almost at capacity, but we can squeeze a few more in
So, don't forget ladies, if you want to attend our next BCME bride-to-be event, email me and I will try my best to pop your name on the guest list, but you have to be quick!!
I'LL BE BACK VERY SOON with my first published opinion piece as an online entrepreneur. Woo hoo!
Ciao for now