Finding a Wedding Dress in Dubai.
Hello fans and fellow Brides to-be?
How are you all? Hope you had a fabulous valentine's day with your habibi's :)!
This post is all about the trials and tribulations I encountered trying to find MY wedding gown in Dubai. Some would say because I run a wedding website www.brideclubme.com, I would have my pick of the bunch, that I should know everyone in town, and so on……, well yes I do know of most of the boutiques, but that does not take away from the fact that choosing a wedding gown is a very personal experience, also knowing EVERYONE can be a little overwhelming too. I wish I could buy a gown from each of my contacts and the boutiques I like, but I can't, at the end of the day, I had to choose the dress that was right for me.
So after trying on about 25 dresses across six key wedding boutiques in Dubai, I finally found THE ONE, Yay!!  My initial vision was to have a long, floaty bohemian style gown, with lace and a little beading, very romantic, soft and ethereal or a fitted mermaid dress with simple details. It would have been the cherry on top if I had found my dream Rosa Clara gown……. If I'm honest the pick of the bunch was low on that front, obviously we reside in the UAE and the taste/styles on offer here, differ dramatically from what is popular back from where I am from (the UK).  In the UAE, opulent, detailed, ball gowns are popular with lots of bling, and for some, this is perfect, but for me, this is 100% opposite to what I wanted and would look hideous on me any way, but stunning on others.
Most of the boutiques I visited in Dubai were kind enough to listen to my preferences and seek out gowns they felt matched my criteria, others totally bypassed what I was looking for and brought out dresses that made me recoil. Even though many of the dresses I tried on were beautiful, I just did not get that 'feeling' the 'wow' factor and did not feel like a 'bride'.
I toyed with the idea of having my gown made and tailored from scratch and had some wonderful chats with, Susanna from Susanna Rachel Bridal Couture, who got my vision immediately and made some fabulous suggestions, so this was certainly a consideration and was to be a last resort if I could not find a ready made gown.
The Bridal Room/Dubai.
I finally decided to visit The Bridal Room in Dubai/Jumeirah Plaza and got straight to the point when describing what I wanted, no messing around, I explained that I had tried on lots of gowns and was becoming increasingly frustrated and anxious that I would never find 'The Dress' in Dubai and would most likely have to go back to the UK to find a gown.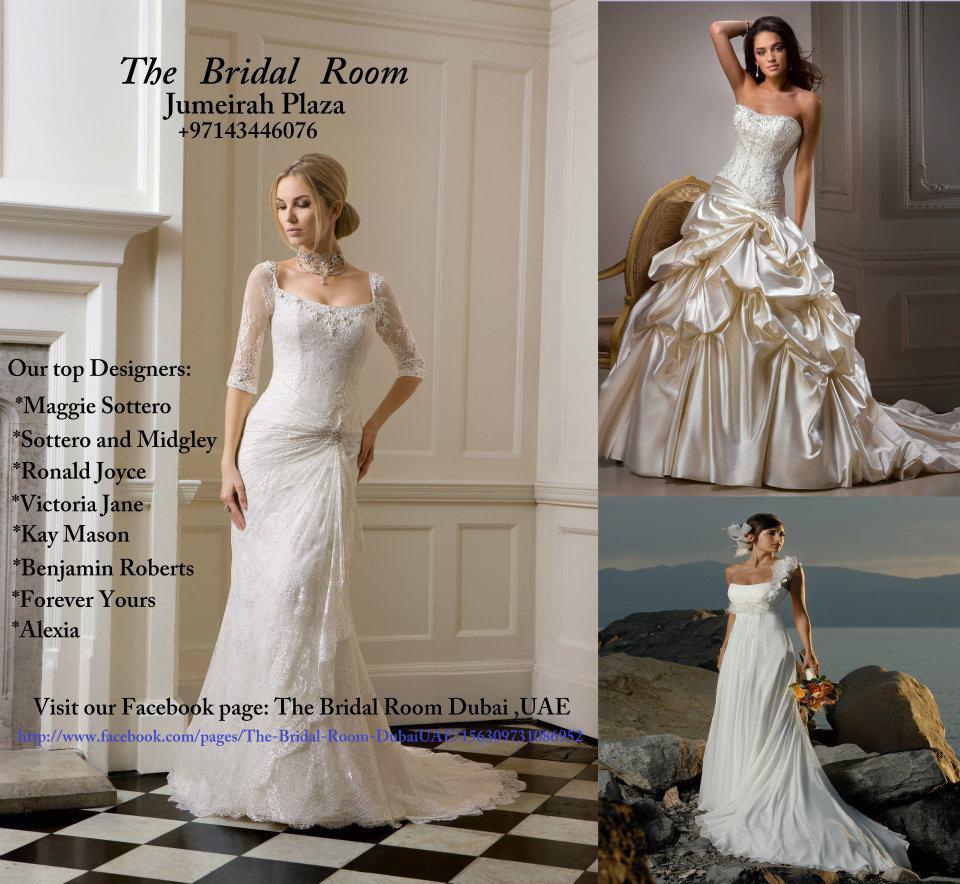 The assistant at the Bridal Room, pulled out some gowns and softly asked me to perhaps consider a change to what my mind was fixated on. I asked what she has in mind and she pulled out a satin/diamond white Maggie Sorreto gown, fit and flare, with a sweetheart neck line and delicate beading on the mid section of the dress. I had never considered satin as I always felt it was slightly outdated, very American and not ME, but after some persuasion I tried on the gown.
As I looked in the mirror, my body shape started to contour as the assistant pulled in my waist using the corset tie ups at the back, my silhouette looked gorgeous and once I was properly strapped in and tidied up, I stood there and just stared in the mirror, slowly a smile started to appear on my face, I caught a glimpse of the back of the dress and it took my breath away  – There it was, that feeling….the smile, I felt like a bride, it felt right.
The dress was very different to what I wanted initially, so it took me some time to get my head around it all, and I brought along a friend of mine for a second opinion, she is a professional photographer too and snapped some images of me from all angles, so I could see the full look myself on camera (I would recommend this if you can get away with it, some boutiques are very strict about photo's, but some are fine, as they understand that many of us expats are away from our mothers, sisters, etc and need opinions). I sent the images to my mother back in the UK for her opinion and one of my other bridesmaids. The feedback was unanimous, "flattering" "gorgeous" "perfect"……
I would say my gown has a Marylin Monroe/Hollywood glam vibe, my body type is hourglass and voluptuous, I suit corsets, fitted gowns, 50's style silhouettes, and just can't pull off the floaty romantic boho gowns, they do nothing for my shape, I will admit that now as much as I adore the style.
I cant post my real wedding gown, so I will post a picture of the gorgeous Miss Monroe instead.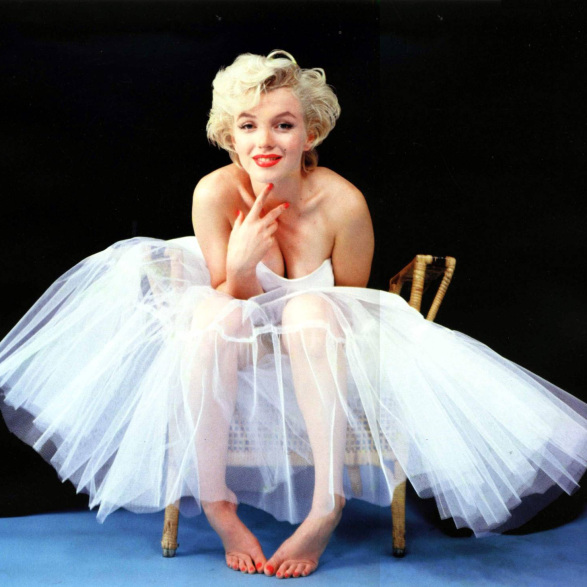 The DOUBLE WHAMMY BONUS was that my dress was in the sale with 40% off and came in under my budget, even with the added cost of alterations and fittings in the lead up to my wedding. My dress is discontinued and can never be brought again. So I kind of have a one off now. I did have a time limit in making a decision though, as the offer ends by February 28th.
Yes, this means my dress is straight off the rack, but having met the founder of 'The Bridal Room' Anne Rashid, and seen some fabulous testimonials to her benefit, I am 100% comforted in knowing she will rectify any small issues with the gown and will ensure it fits like a glove for my big day. The dress will also be spot cleaned and steamed.
So, no Vera Wang for me, or gowns coming in over five digits, my dress was very reasonable in price, the opposite to what I originally wanted and was off the rack, but it looked wonderful, felt sumptuous and the staff at The Bridal Room are fab!  Their dresses are all under 12,000AED and when they run sales you can nab a bargain and get a gorgeous gown for between 3 – 7,000AED.
If you look hard enough, there are lots of bridal boutiques dotted around Dubai and some of the bridal boutiques/designers I personally visited and would recommend are:
Contessa Dubai – They were brilliant with me and really tried to accommodate my needs, many of their dresses were reasonable on price too,  I may possibly be buying my belated engagement party gown from there too, as they have a fantastic selection of stunning evening gowns, watch this space!
ESPOSA Dubai – The recently opened ESPOSA Dubai had a gorgeous boutique, wonderfully accommodating staff and amazing gowns, but the were just way too far out of my budget limits, however, I would highly recommend them to brides with bigger pockets, as they have a great range……
Susanna Rachel Bridal Couture – I would recommend Susanna Rachel Bridal Couture to brides looking for a tailor or bespoke dress that they themselves can help design. Susanna has great taste and style.
Moirai Design – I cannot forget Barbaranne Heaton, founder of  Moirai design, Barbaranne's  niche is bridesmaids dresses, she is making my gorgeous BM dresses, funnily en0ugh they have a 50's/Audrey Hepburn style to them and so will match perfectly with my Marilyn Monroe style wedding gown, BUT she may also be making my legal wedding ceremony gown, which is very simple, soft, with a surprise colour which will be revealed at a later date…..
So there you go ladies, I feel your struggle if you are going through the same, especially being here in Dubai,  MY TIP would be that if you are finding yourself in a rut, step out of your box and try something you perhaps may not have considered, you may be surprised. Oh and also check out our bridal attire listings on www.brideclubme.com for a list of reputable boutiques and designers in the UAE.
Ciao for now and good luck in your search too
Rio xx