My UK Hen doo!
Hello lovelies.
Hope you are all well.
Today, I'm posting about my UK Hen doo. It seems being an expat bride, means we have two of everything, lol. I have family and friends across both sides of the pond, so I had a hen doo with my UK girlies and will also have a chilled one here in October with my Dubai girlies.
For my UK hen doo, my Maid of honor and bridesmaid (Emma and Trish) organized it all. I was blown away by what they did and had one of the best nights of my life.
They arranged pre-drinks/games at my mummy's flat in Hendon, organized a huge pink hummer limo to pick us up, and we cruised though London city, the west end and stopped off outside the London eye for some pics. After which, we were dropped off in Soho.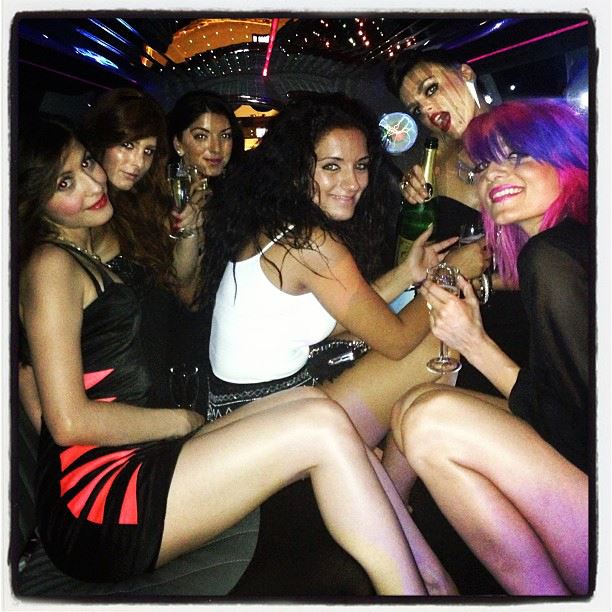 From there, we went to a few bars until we eventually reached THE BOX. Now, due to where we live, I cannot go into much detail, but let's just say the BOX is a theatrical club, putting on performances not for the weak hearted! Lol. We had our own VIP table close to the stage and partied the night away.
The night ended with hot chocolate and pizza in my favorite Italian cafe in Soho 'Bar Italia' – The cafe was a favourite of the late Amy Whinehouse.

Above: Bar Italia/Soho London
The funny thing is, that same night, my fiancé had his stag, they started their day off go-karting and ended up in Soho, Adam tells me that he and his boys saw my girls running across the road and the boys swiftly walked the opposite way! Ha-ha, so funny.
I really enjoyed my hen party and really appreciate the effort my girls made for me, it meant so much. Now, my Dubai hen, will be a lot more chilled. I'm organizing a DIY afternoon at mine, with games, nibbles and music and may go to the Music Hall after with those who want to come. I think this is a great idea, as it gets my girls involved in helping out with the wedding DIY and also gives us time to bond and have some fun.
Can't wait! What do you have planned for your bridal/hen party? Let me know below.
PS: I thought it best not to post many of my London Hen pics for reasons I'm sure you will understand :).
Ciao for now peeps and see you on Thursday.
Rio xx