The past year and goals for 2013 – Our first Christmas as Husband and Wife.
Hello lovely ones.
Season's greetings to you all and I hope those of you who celebrate, had a wonderful Christmas.
My husband and I met on Christmas day five years ago, while he was on holiday in Dubai. I had been living in the city for a year already. I wouldn't say it was "love at first sight", but there was an instant gravitation towards each other when we met, this clearly shows in the image below, taken by a friend of ours. a full total of TWO HOURS into meeting each other.
So it's always been extra special for us and of course, this Christmas was our first as 'husband and wife'. We have a tradition of filling stockings up for each other and opening them on Christmas eve. I was impressed with Adams stocking fillers this year, which were both funny and thoughtful. In my Santa stocking this year, I got.
A pack of ear buds, a pair of tweezers and a hairbrush (odd I know, but this was Adams attempt at being funny, you see, I always loose these particular items)
Some swanky pens and office stationery
Several beautifully scented candles, sea salt and ginger being my favourite
A silver miniature Jewellery box to hold my wedding and engagement ring
A gorgeous purple throw/blanket to snuggle up with on the sofa during our movie nights.
I think I did well this year, he-he…All Adam got was some socks, pants and a mug, although I did give him his special presents last month, VIP tickets to see the prodigy and a professional shave and massage.
Christmas day itself was pretty relaxed to be honest, yet another year has passed, with me being away from good old London Town and my family. This year, my good friend Darine, founder of Mother, baby & Child Magazine hosted a BBQ in her community area at the Greens, each of us brought a dish and contributed to the spread…there was an eclectic and diverse mix of people with whom my hubby and I shared this special day with, some of who we had never met before.
Each guest brought dishes representative of their own mother lands, including Jerk Chicken, Arabic bites, Nigerian fish stew, Southern fried chicken, and more, I brought a variety of salads and home made mince pies. It was concoction indeed, but a traditional roast turkey with all the trimmings was there for the taking too.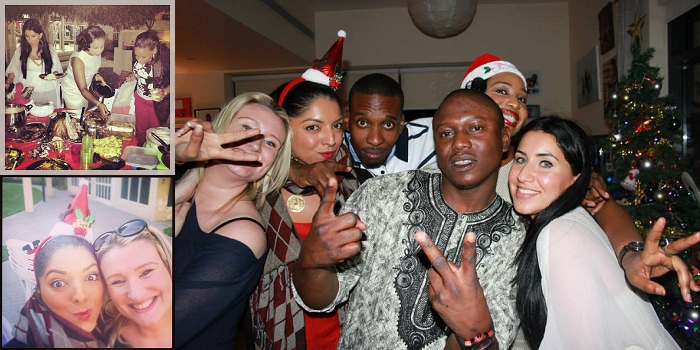 We finished the evening listening to some old school tunes and dancing our worries away, it really was a lovely day and helped ease the homesickness I often feel during these moments.
Every year, I always treat myself to a gift or two, this year I brought myself a pretty 2014 diary, with ample writing space (I'm going to need it), a giant mug for my morning coffees and a mini BIG BEN paper weight for my new office when we move in February. As you can see, I have a penchant for butterflys and dragonflys.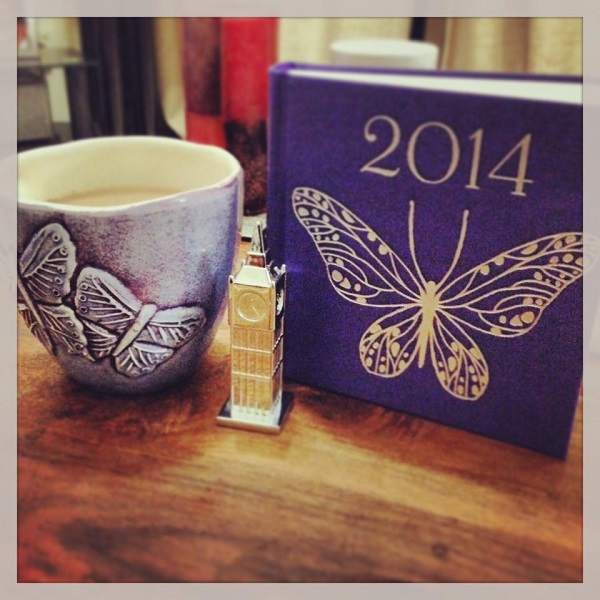 2013 for me was a year of EPIC proportions, some of my years highlights are listed below:
Running and developing www.brideclubme.com
Being bridesmaid and attending the weddings of my best friend and cousin
The pregnancy of one of my best friends who had been trying for some time, and the birth of her beautiful boy
Parting ways with my previous business partners, going independent with Bride Club ME & setting up my own boutique on line publishing house and consultancy firm 'Club Media FZE'.
Planning my own wedding and eventually marrying in November of this year.
Next year does not set to slow down at all, on the agenda is:
Moving home in February (I hate moving, but I'm so excited to work with a blank canvas and set up our marital home, home décor and interiors is another passion of mine)
Travelling back to the UK shortly to change my name and renew passport. This may be controversial to some, but I have decided to go with a double barreled name 'Downie-Hurst'…I'm a rebel, what can I say?
Stage two development of www.brideclubme.com, the first year of launch was learning curve and I want to make some improvements.
Finalising the branding and website for Club Media FZE
Launching a new lifestyle website (A surprise for now).
Partnering with industry events as well as launching a few of my own (all will be revealed in good time)
Honeymoon in July, yaaaaaaaaaaaaaaaaaaaay!
And the above does not event touch the surface. I will perfect the work/social life balance one day, but like any successful business owner, sacrifices are made and it doesn't come easy. I'm prepared to work my butt off to achieve my goals. To balance it out, Adam and I intend to take lots of mini breaks, as we really haven't travelled as much as we would have liked to over the past few years, the honeymoon is something we are really looking forward to.
I don't believe in resolutions, rather I believe in good intentions and goal setting…..my grandfather always told me "When you remember something, do it there and then and don't procrastinate when you have an idea, wasted time has a way of slowly eroding the passion you had for the idea initially" – This has always stuck in my head, which is why I act fast and don't waste a minute…..if the idea does not come to fruition, so be it, at least I tried.
What are your goals and dreams for 2014?
Whatever you choose to do tomorrow, I hope you have an amazing evening and I will see you all NEXT YEAR! It's going to be a good one for us all, I can feel it in my blood.
Ciao for now
Rio xx