Wedding Dilemmas and bridesmaids dress fittings.
Hello gorgeous ones.
I hope you are all well.  I'm a little bit better this week, posting only a day late :P. I swear, once my wedding is over, I will always be on time, he-he. I also have some big news to announce regarding www.brideclubme.com, watch this space, update coming soon!
Anyhow, what have I been up to since we last spoke in the on line world? Well, I have had two little wedding dilemmas this week.
Dilemma 1: Three people on my fiancés side all of a sudden informed us that they are coming to our wedding, only after my fiancés parents happened to ask if they RSVP'd, they didn't and the dead line was 2 weeks ago, everything has been ordered, table plan DONE, and so on. We are not having little ones at our wedding, due to the hotel not having onsite childcare facilities and also due to the fact that the wedding will take place alongside a deep pool and some steep drops, we just couldn't take the risk. One of the three extra guests is a child age five….Hmmmm! Awkward!
We basically worked it all out and told them that we could accommodate two adults if we shuffled things around a bit, but would need to know ASAP.  Three extra people, would have meant having a whole new table, center pieces, etc. We clearly stated on the invite the RSVP deadline and the no kiddie comment, I've seen on many a bridal forum and website that this is very common, for guests to say they are coming long after a deadline…I just don't think it occurs to people that this is easier said than done sometimes, especially for small intimate weddings on a budget, but I was informed by my fiancé that it is 'The Italian' way….hahah! He is part Italian.
Anyhow, if we allowed one child, then we have to allow all, so we had to be a little firm with that, but in the nicest possible way, and of course, we tried our best to accommodate two additional guests, but in the end the extra guests decided they would not come due to the little one, I felt so bad as we LOVE children and would love them to attend, but at the same time, we did give ample notice and reminders of the deadline and we did try our best to work something out.
So, if you are guest reading this, it's really important that you RSVP a wedding by the due deadline, or at least give the bride and groom a little notice of delay if you still need time to decide, a lot goes into planning a wedding, and accommodating additional guests can sometimes mean changing an entire floor plan, many brides order things in advice from abroad such as favors, etc, so it's really not as easy as just popping  extra chairs on a table for most couples. And being strict on guest list/RSVP's is definitely the 'British way'…..lol!
Dilemma 2: Finally, my UK Bridesmaids have booked their flights and sorted their accommodation, I was getting  little worried about that for them really, due to flight and hotel prices often hiking up during the months of November.
I was also concerned about the fact that they still had not got their bridesmaids shoes from New look, a specific kind of shoe, I was so worried that they would run out of stock, low and behold, when the girls finally did go, the shoes were out of stock, I KNEW that would happen. LOL, apparently the girls were too scared to tell me…Oh come on, I'm not that bad ladies! But I kind of prepared myself that this would happen …soooooooooooooo, today, I went to New Look in Ibn Battuta Mall and they had ONE pair left in the correct size left, I needed two. Thank goodness New Look called up their Sharjah store and they too had ONE pair left, and agreed to deliver to the Ibn Battuta Mall store for me to collect this next week! Phew! THANK YOU NEW LOOK!
The above things seem so trivial and silly, and in reality they are, but for some reason when it's very close to your wedding, even the smallest things can take all of the energy out of you.
So, now that the two dilemmas are sorted, today I looked forward to a day out with my Dubai girls Alice and Camilla, I met with my two Dubai Bridesmaids to get their first dress fitting with Barbaranne at Moirai Style, and at the same time, myself and one of my bridesmaids Alice, also has our first fitting for my Matron of Honours (Camilla) wedding too. It has been great having another bride-to-be to rant and rave with throughout this whole process, and even better that we are part of each others bridal party – Our weddings are just two weeks apart.
I love my bridesmaid dress for Camilla's wedding, so comfortable and elegant. As for my wedding and my girls dresses, a few changes may be needed due to some beautiful bumps developing, but it's getting there. Alice, as usual, brought her trusty Camera and documented the day, as you can see she was getting friendly with Barbaranne's  beautiful cat, I loved him!!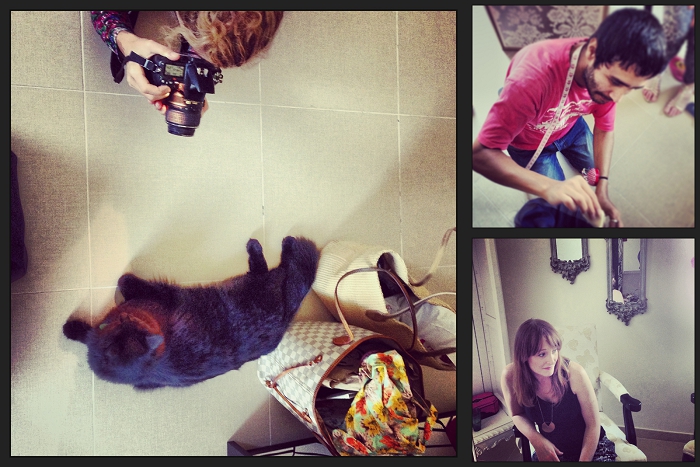 I also had my second facial at Sugar Urban Nails this morning, I'm having one a month in the lead up to my wedding and you can read all about my wedding beauty routine here.
Last weekend, my fiance and his Dubai grooms men went and got fitted for his suit and their waist coats at 'collars and cuffs' Dubai, and will go back next weekend for their first fitting. Can't wait to see them all looking handsome and dapper. I also visited my florists vintage bloom , to see an example of our table décor set up, it was beautiful and I can't wait to see the full set up.
YAY, it's all coming together….so excited. Next week, I have a busy schedule of business meetings with a gorgeous wedding venue, a florist, a photographer and a cufflink designer all for www.brideclubme.com, and not many personal wedding meetings (thank god), aside from a very important one with my 'on the day' wedding coordinator, the lovely Clare Ebbs from 'The Perfect Moment' Dubai… Whilst Clare is not planning my wedding, she will be helping me and the venue on the day and will also ensure I am all sorted logistically before the wedding and will take care of contacting all vendors prior to the day, setting time lines, etc. I would highly recommend an 'on the day' coordinator  for  brides who want to plan their own weddings, but would like some support with logistics and on the day coordination.
Well, that was a long and rambling post, but I hope you enjoyed the update. Tomorrow, I have a baby shower to attend and I'm in charge of making my famous potato salad and bringing some lovely healthy food, so I must get off to bed, so I can start cooking early. I can't wait to shower my gorgeous bridesmaid Alice, with baby gifts!
See you next week folks,,,ciao for now!
Rio xx